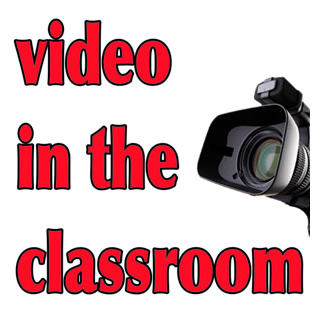 I frequently receive questions from teachers on how to get started integrating video in the classroom.
This begins a multi-part series in which I share the films we've made in my class and how we made them.
If you have seen the films, find out how they were made.
If you haven't seen the films, check them out.
The year was 2003
I had been teaching for over two years while simultaneously earning my teaching credential. My credential was completed in March and with three months left in the school year, there weren't any more excuses for me not to make a movie with my first grade students.
Okay, I did have one excuse…My video camera was broken.
Inspiration/Serendipity
Around that time, I had finally found one of my favorite short films La Jetee (1962)
on DVD. The film, haunting and poetic, tells a science fiction tale with a series of still images.
I also came across an article on a film I had recently seen, a documentary about producer Robert Evans, The Kid Stays in the Picture (2002). The article talked about how that movie too was told with only still images. When I saw the film I didn't notice it was all still images. The article detailed how often the subjects of the film had been removed from their background, the background cloned and filled in, and then some element of motion added to the photograph (panning, zooming, cigarette smoke, fire, wind, etc.)
It seemed like a great challenge to put together still images and try to produce a great film. Combine that with me wanting to purchase my first digital camera and a burning desire to learn Photoshop and I had a plan.
You may wish to view the movie now if you haven't:
Educational ObjectivesMy students, most of whom were English Language Learners, were very low in terms of reading fluency. In California, teachers use a prescribed reading series which takes up a lot of class time and so I felt that our work on the movie would need to support our reading so that I could justify the time away from the teacher's manual to administrators and class visitors.I was reading research at the time that pointed to the benefits of Reader's Theater in improving reading fluency as it gives students an engaging and real-world purpose for repeated reading. It seemed simple enough. If I could engage students in reading the script and stress the importance of expression in reading students would naturally become better readers.Cinematic ObjectivesThe filmmaker side of me did not want to show you students reading because that would be boring. So on one day students read the script into a microphone and on another day students acted out the scenes while I took pictures.
Choosing Material
I choose the City Mouse because my students loved the story. It was in the public domain, and because it provided opportunity for some special effects. I learned from previous experiences making films with children that kids love special effects. They'll watch a ten minute film to get to the one special effects shot. The story also fit with the Folktales unit of our Open Court Reading series.
How We Did It?
Backgrounds:
In Photoshop you essentially cut students away from their backgrounds. For beginners, it's like taking a scissors and cutting around students. For advanced users, I used masks to remove the background. Then I shrunk the students so they were the size of mice and then put them on top of new backgrounds…The White House, Disneyland, the bottom of a doorway, etc. In Final Cut Pro, I added motion to the pictures, zooming in, panning, and sometimes scaling the characters on their background so that it appeared as if they were moving.
Sound:
I'm frequently asked how I got the students' voices to sound so clear. The first suggestion is proximity. Many teachers shoot video from across the room and expect to be able to hear students' speaking. You can't. Especially working with students who are really young and learning English, they will talk extra quietly and video cameras cannot pick up their voices without a lot of background noise from far away.
I used a boom microphone attached to my Reading First MacBook with an iMac. My microphone, left over from my film making days cost $250. However, even a $20 USB mic
held close to students' faces would give you better sound than your laptops built-in mic or your camcorder's built-in microphone.
Editing
iMovie could automatically animate (add motion) to your pictures for you but this movie was edited manually by me in Final Cut Pro so that the timing and movement was precise after each picture was edited in Photoshop.
Planning
No one ever asks me this but storyboarding is key. Sometimes teachers who've seen the film send me films they say have been inspired by it. The difference between this film and many that teachers have sent me is that the camera is not always in the same location. Notice that some shots are from far away and others are up close. I do not always show students' faces in every shot.
I don't make this up when I get to class. I storyboard everything, sometimes the night before, so I know what I'm going to shoot. There's always room for spontaneity but having a plan ensures that you don't forget anything and have a visually appealing game plan.
Please post other questions below.
Related posts:
Design and Storytelling in Film

Digital Storytelling Blog Carnival