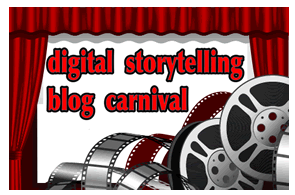 Welcome to the first edition of the Digital Storytelling Carnival and for visiting the newly relaunched Video in the Classroom.com
Thank you for visiting and a special thank you to everyone who submitted an article. There's a lot here to enjoy and learn from.
As long as interest keeps up I'd like to make this a monthly feature of the site. If you'd like to submit an article to next month's carnival, please use this form. Enjoy!

Rationale for Video Production in the Classroom

Why Integrate Digital Video in the Classroom? my own entry to the carnival. If you're reading this, you probably don't need convincing but it may be helpful to have a common rationale for classroom video making adventures.
Paul Hardt reflects on providing audience for student work through video production which traditional paper and pencil classroom activities don't always provide.
Film Theory and Techniques
PodPiper, Ted Lai, shares his preso for teaching cinema techniques based on AFI's Screen Education Series.
Marco Torres, of Flickschool, presents this film on using storyboards to plan projects.
15 Lessons Learned in 2007 is Lee LeFever's reflection on the power of video and keeping communication simple.
Dean Shareski asks the question, What Is Video? and explains different video types.
Design and Storytelling
Anthony of Students 2.0, reflects on a desire to see design in student video projects.
Tom of Bionic Teaching looked at storytelling as it relates to powerpoint slides.
Dan Meyer related storytelling to math, language, music and designed a storytelling class he'd like to teach. (I'd enroll if I could).
And I tried to explain some basic film language and how I "design" shots to assist the storytelling of a film.
Tech Tips
Tips for Shooting Decent Home Video from the Tip Diva.
Tools for becoming a better digital storyteller by Gail Desler.
Digital filmmaking with teens by Nick Pernisco of Understand Media.
Encoding and Streaming Flash in Kevin Hodgson's Long Day's Journey Into Video Streaming in which he manages to bypass commercial streaming sites and stream his own flash video from his school's server. Kevin's also great with clay animation.
How to choose a classroom camera from AFI's Screen Education blog.
Microsoft PhotoStory tutorials are available at Anne Mirtschin's Wild Garden.
Classroom Management and Podcasting
Alice Mercer writes about how she plans and produces weekly podcasts with her ELD students with specific time management tips for the busy teacher.
Resources
Larry Ferlazzo, who rivals David Letterman for his use of top ten lists, highlights the digital storytelling tool Scribd and explains its use for English Language Learners and shows us an example.
Alan Levine presents 50 different online tools to make the same movie.
Video Conferencing
Brian Crosby of Learning is Messy shares how his classroom used videoconferencing to include a home-bound student with leukemia in class lessons.
Examples
Tales from the Yard, First Grade Horror Film
A reading of What a Terrible Noise becomes an engaging film project for Kathy Epp's Class 2i.
JoNelle Gardner's iSurffers take you on a tour of their school.
Fred Mindlin makes a connection between string games and keyboarding in this film for his students.
That's all for now. Until next time…Happy Filmmaking! -Mathew
Submit an article to next month's carnival
Tags: blog carnival, Digital Storytelling, digital storytelling carnival, digitalstorytelling