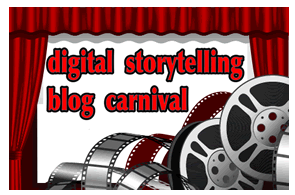 It's that time of the month again for a round-up of the latest articles, examples, and theory behind digital storytelling and video production in the classroom brought to you by Video in the Classroom.com
Thank you to everyone who contributed articles. And thank you for visiting.
It's not too early to submit an article to next month's carnival. Enjoy!
Assessment
Jess Laccetti addresses the issues of grading and assessment digital storytelling in a search for digital storytelling rubrics.
Examples from Classrooms
John Woody shares some of the work of his college students from the around the world. These are quite polished and award-winning. They are all created using Apple software that is affordable to public schools.
Tons of digital storytelling examples by content area from the Digital Directors Guild.
Star Wars Episode XXIV from Video in the Classroom.com
VoiceThread wiki with examples from elementary classrooms.
Ejourneys with 6th Grade TechnoKids.
Making Connections for Kids from the MST Portal shares a fourth grade project for students to reflect on winter shipping on the St. Lawrence River.
The Quick Chill by Kekoa expores the atmosphere of a nearby dam, accelerating a 7 minute walk to 7 seconds.
How To
Kevin Hodgson shares this YouTube film on How to Stop Motion Animate. For a professional example, see Peter and the Wolf in clay.
Queen Elizabeth Public Schools shares a Marco Torres video on how to storyboard scenes from a screenplay.
Marco Torres shares how to use iMovie '08.

Professional Photography
Sometimes digital storytelling is synonymous with sloppy film making. Let's avoid that.
Here's some inspiration in the professional photography of Chris Jordan and Vincent LaForet.
For more about composition, see this page on the Rule of Thirds.
Educational Theory
Educational Uses of Digital Storytelling by Bernard Robin from the University of Houston.
Langwitches posts this study on Digital Storytelling as a Literacy Tool.
Anne Davis shares how to use iMovie/MovieMaker as a visual timeline tool.
Copyrights and Royalty Free
The Springfield Township Virtual Library provides these resources for copyright and fair use guidelines.
Kate Olson posts these royalty-free music resources.
Presentations on Digital Storytelling
Video in the Classroom interview with yours truly on the EdTech Talk show It's Elementary hosted by Alice Mercer, Jose Rodriguez, and Lisa Durff.
Digital Storytelling by David Jakes at Cue Conference 2008 live-blogged by Jose Rodriguez.
Notes from Presentation on Digital Storytelling and Another Two SITE Sessions: Digital Storytelling in Using Technology to Tell Stories.
Ted Lai posts his powerpoint from his CUE 08 presentation on everything you ever wanted to know about podcasting (but were afraid to ask).
Contests
Film Your Issue contest by way of Dangerously Irrelevant.
Reflections
Thinking About Ed Tech reflects on learning MovieMaker and other Microsoft Movie Making tools.
Jeff Utecht learns iMovie by posting A Day in the Life.
Links
JakesOnline, David Jakes's digital storytelling links.
Jason Ohler's Digital Storytelling Cookbook, most of which is available free online.
More links about digital storytelling by Chris Smith.
Submit an article to next month's carnival here.
Related Posts: