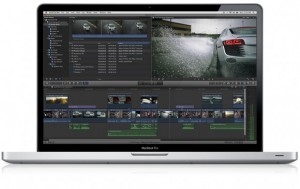 You may have heard that Apple has released a new version of their movie editing software, Final Cut Pro.  The reviews are in and they've been mixed.  Even Conan O'Brien made fun of the new software.
I've been using Final Cut Pro since they released version 1.0 nearly a decade ago.  I have some of the same concerns about the new version, Final Cut Pro X, that many professionals have, namely the inability to import previous versions and having less control over how "tracks" behave.  However, as someone who has trained teachers on how to use Final Cut Pro, I am nothing but excited about the new version.  If you're a teacher—and not a professional editor—who has been afraid to step up from iMovie, now is your time.
The new interface borrows a lot from iMovie which offends professionals but should excite teachers.  If you've figured out how to use the versions of iMovie since 2008 then it's not so difficult to step up to Final Cut anymore.  For iMovie users, I'd jump in now if you're ready.
If you've been using older Final Cut Pro versions then you're going to need to figure out what to do with your old projects.  However, you can look forward to background rendering, ease of sound sweetening, and color correction once you make the switch.  And based on the recommendations of others, like Larry Jordan, I would wait until version 11 before switching.
I have not had a chance to play with the new software myself.  However, here is a round up of everything I've read on it.
Steve Martin's Final Cut Pro: A First Look, a fantastic article with how-to directions on many of the new features.
David Pogue loves Final Cut Pro X
David Pogue Addresses Professional Editor's Concerns
Richard Harrington responds to David Pogue's reviews
Apple Answers FAQ about the new program
More Tips on Using Final Cut Pro X
Larry Jordan video presentation