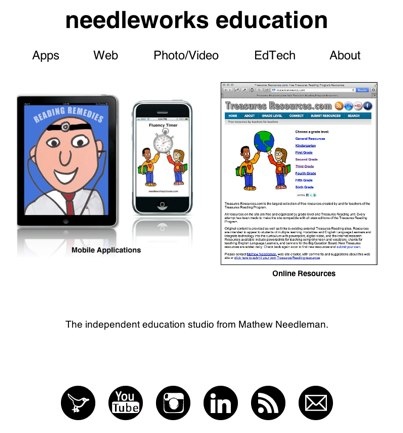 Periodically, I like to reintroduce myself to blog/newsletter readers and (re)define the purpose of this blog/newsletter for those of who may be joining this program already in progress. In addition, a couple of recent developments will be new to almost everyone.

E-Mail Subscribers
I want to thank subscribers to this blog.  Many of you have subscribed via the e-mail newsletter link on Open Court Resources.com or Treasures Resources.com.  You may not know that what you're reading is a blog at all, but thank you!  Blog reading is pretty painless, isn't it.
Who Am I?
I'm Mathew Needleman.  I'm just one guy, a teacher and sometimes filmmaker.  I write all the content on this blog and do not accept guest posts.  The most prolific periods of my blogging have been while serving as a Literacy Coach and Intervention Coordinator in the elementary grades during which time I blogged about things like reading comprehension, reading fluency, and writing with a dash of technology thrown in occasionally.
I was recently hired as an Instructional Technology Specialist.  I assist 130 schools with integrating technology into their curriculums particularly in support of the Common Core Standards and Language Learners.  I'm still focused on good instruction but my focus has widened to include not just language arts and all grade levels K-12.
The focus of my blogging going forward will likely shift to include more technology but only as it relates to instruction.  I've never been interested in technology for technology's sake.  If you can do it better with a pencil and paper, please do.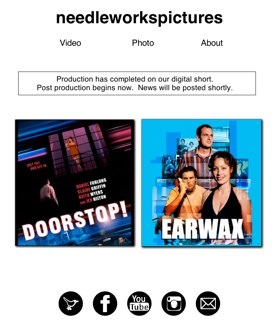 My Other Sites
I maintain a number of additional web sites.  I've made the decision to revive my dormant independent digital film studio, at Needleworks Pictures.com.  Needleworks Pictures hosts my personal  artistic pursuits unrelated to education and will have more information about my latest moviemaking project shortly.
I've spun-off all education endeavors (Open Court Resources.com, Video in the Classroom.com, and this blog the most popular among them) and linked to them all from Needleworks Education.com All of my web sites are free but sometimes advertiser supported.  No advertiser support has ever influenced the content of any of my pages.  In addition to web sites, I also make iPhone apps which are not free and quite costly to produce.  More information about the apps is available at the Needleworks Education site.
My Outside Associations
Although I don't intend to ever post anything offensive or controversial, it's worth noting that although I work for a school district, everything I post here is my own opinion and not the opinion of my employer.
I am an Apple Distinguished Educator.  I was chosen for this program because of my fondness for Apple products.  I am not required to post about Apple and only do so when I choose to.  I am allowed to be objective in posting comments about Apple products.
I'm a member of the Adobe Influencer Program.  In exchange for passing on some information about Adobe news I've been given something akin to advanced press access to some Adobe announcements.
Questions
I thank everyone for sticking with me, particularly in this long dormant blogging period.  I hope to have new content soon.  If you have any questions, feel free to post them below.