I've become a better teacher of English Language Learners by watching one of my favorite TV Shows, Jim Cramer's Mad Money. This is a show about buying stocks. If you're not interested in stocks you might be turned off already, but Jim Cramer is an entertainer. He takes what could be boring and incomprehensible and makes it engaging and completely understandable for people who know little about stocks AND those who know a lot. Isn't this what we're trying to do in the classroom, particularly for English Language Learners and students with limited language exposure?
Realia
When talking about stocks he wouldn't touch with a ten foot pole, Cramer brings in a ten foot pole. When recommending baby boomer stocks he wears a diaper. When recommending Energizer he wears bunny ears. When talking about the differences been Hasbro and Mattel he brings pictures of a HazMat team (Hasbro/Mattel…HasMat). Think about how you can take something that you're teaching that's incomprehensible and bring in something visual to make it comprehensible and engaging for people who may not understand what you're talking about otherwise.
We need to bring something physical into the classroom. It's not always the actual thing that you bring because it's not always possible to bring an elephant into the classroom. But you can bring in a symbol of that thing. A teddy bear can substitute for a man about to undergo open heart surgery. A tossed bean bag quickly replaces a comet flying across the sky. When you're talking to students who don't have the academic language to understand everything that you're saying, give them something they can see that's not just you talking.
Vocabulary Objectives
Your lessons should have a vocabulary objective.
When Cramer wants you to know about PE Ratios (that is price to earnings ratios) he will put the word on the screen. He makes it clear at the beginning of the lesson that he wants you to understand "PE Ratios."
English Language Learners' have a much smaller lexicon of academic English. Teachers include new vocabulary in their lessons all the time but are not often explicit enough about the words they are teaching. A lesson might include the word persuasion without making it explicit that you want students to learn and use the word persuasion. Students can generally figure out the meanings of words long enough to understand your lesson but we're trying to add new words to students' long term vocabulary and so we need to make sure they understand that's an expectation. We also need to make sure they know how to use the word. A linguistic frame works for this purpose.
Example linguistic frame for fossils unit:
Cramer provides these linguistic frames by applying new vocabulary to multiple stocks using consistent language and then provides the audience practice by having them call in the show and use the vocabulary.
In our rooms we need to write the new words on the board. Make it clear before the lesson starts that today students are learning the words X and Y. Give students opportunities to practice using the new words and help them by providing them with a linguistic frame. Get them to talk to each other to practice using the new vocabulary. We can then add another step that Cramer doesn't have time for in a one-hour show and have students write with the new words. We've scaffolded it enough now to expect that they will use those new words in their writing.
Engage Students
I know some teacher have the attitude that they do not need to be entertaining. But couldn't you be a little interesting to watch? One of my colleagues refers to teaching as doing a six hour one-woman show five days a week with props. Imagine yourself in the audience of that show. How good a show are you? Would you like to be in your class?
I've added a fake ear to my repertoire. When students are too quiet, I put it to my ear and say "I can't hear you!" A rubber chicken helps to lighten the mood when no one is responding and even wait time isn't working. One cluck and suddenly students feel comfortable enough to come forward and venture an answer.
Cramer makes it fun with all the props, the excitement in his voice, and even sound effects. Cramer shares his sound board and all his sound effects are available online. I use these when students are half-asleep (think math after recess). When a student gets an answer right you play the Hallelujah chorus. Today we're going to talk about fractions…"Tah Dah sound"…applause…
Not all sounds are appropriate for the classroom but you can use your judgement. I've also used a free Mac download called Buzzer for much the same purpose.
Before using this I tell students that I'm going to be using sound effects that are silly but if they get too silly I'll have to stop. And a couple times I have stopped when students got carried away, but most of the time it helps them pay attention. The sounds bring them back to the lesson when they wander off.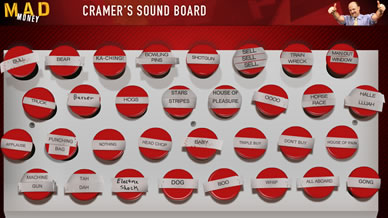 The Take Away
Teachers are entertainers whether we want to be or not. Use your post to be interesting. It's true that it's not your job to entertain but when students are entertained they pay attention, they comprehend, and your classroom management is stronger.
Also recommended: Making Content Comprehensible for English Learners: The SIOP Model by Echevarria, Vogt, Short