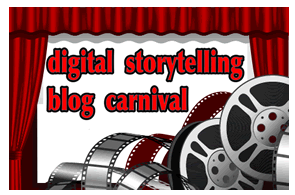 Welcome to the second installment of the Digital Storytelling Blog Carnival. Some have correctly noted that I'm using the terms digital storytelling here synonymously with digital filmmaking. Whatever you want to call it, the technology gets cheaper and easier to use everyday.
Here's another assortment of articles for beginners and pros alike. Enjoy!
Getting Started

What is Digital Storytelling Film? from Joe Dale.
A Podcast from Educase about the potential for Web 2.0 and Digital Storytelling and how to relate it to assessment.
My Head is Spinning…But I'm Loving It (on the process of beginning to integrate digital storytelling in the classroom) by Greg Oz.
Film Techniques
Marco Torres's Flickschool offers this film on wide, medium, and close-up shots. Make sure you're varying your shots.
The Door Scene, a fantastic way of teaching filmmaking to teachers and students from the American Film Institute's Screen Ed Series. See my own doors scene here.
Teaching Techniques
Wes Fryer looks at Digital Storytelling from the Eyes of a Child.
The Making Of
Clay Animation Podcast from Video in the Classroom.com interviews with Greg Paulsen, Kevin Hodgson, and Carolyn Daly.

Kevin Hodgson looks at using powerpoint as a digital storytelling tool in Powerpoint As Movie.
Examples
Storytelling with a SmartBoard from Ms. Taylor's Classroom.
Monster projects from Terry Smith's 4th grade classroom.
Podcasts on famous explorers from David Kaupler's 5th graders and a 3rd grade animated project on the life cycle of a butterfly (made using Garageband and iMovie).
Lucy Gray's Robomance Clay Animation Project.
Kenya Escape Through Digital Storytelling by Scott Floyd.
Tools
Collaborative VoiceThread: What Could It Mean? from Langwitches.
Animoto, who would've thought it would be so controversial? A critical look at Animoto by Dan Meyer.
Larry Ferlazzo expands digital storytelling even further to include online Comic Book Maker, Pixton.  Here's his review. 
Technically Speaking
Digital Cameras: Quality and Options from Learn Digital Photography Now.
How to use a Greenscreen presented in Cool Cat Teacher's Blog using a video by Dean Shareski.
Camera Stabilization on the Cheap (thanks to Steven Katz for link).Clay Burrel's film, "Cutting the Crap from Student Movies" shows how to donwload Youtube clips and creative commons licensed materials.
Music is Not for Insects presents this article resolving issues using Flip Video with iMovie '08.
Contest Alert
The Generation Yes Blog shares the TechLearning Moviemaking contest.
Links
Stories for Change, a site to join and share films about social justice.
Elona Hartjes, an inspiring Canadian educator, submits this link to F.I.L.M. (Finding Inspiration in Film) and explains how it has helped her students.
Network
If you're a member of Classroom 2.0, please join the Video in the Classroom group to network with other educators using video in their classrooms.
That's All Folks
Join us again next month.
Submit your articles for the next carnival here.
See Digital Storytelling Carnival #1 here.
And see you at CUE (Computer Using Educators) Conference if you're going.
Tags: classroom, Digital Storytelling, digitalstorytelling, film making, filmmaking